Who We Are
Signergy, LLC began it's journey in the mid-90's in north Raleigh as American Sign Shops. We became Jack Rabbit Signs as ownership changed hands in the early 2000's. Today we have a new owner and a brand new name and image - Signergy, LLC. Our customers have grown with us through the times and we're still serving many of those original folks. We strive to adapt to our ever changing environment.  With product lines, sign ordinances and customers's needs shifting continuously we aim to keep a bead on our customers as we grow with them.
What We Do
The vast majority of signs produced are for specific purposes - custom signs designed to achieve a desired result.  This is true if you need…

more info
Our Team
Ryan McElreath
Owner / Sales
Ryan has been driven to manage and lead small businesses for many years.  From his time spent managing delivery restaurants in and after high school to helping open a sign shop outside of Charlotte after college, he has finally landed an opportunity all his own - Signergy, llc.  Consistently wearing a smile and eager to help those around him, this new chapter is well suited to his personality.  Outgoing and hardworking are characteristics that are important to his success and that of Signergy, llc.  Every aspect of the business finds Ryan involved - from taking out the garbage and cleaning the shop, to sales and installation of any and all of our projects.

Stacey McElreath
Administration / Production
Stacey began this experience fresh and new when she came to work at Signergy, llc.  Armed with skills in human resources and small office management she jumped right in on tasks she was familiar with and took guidance in learning her family's new business.  Now, two plus years in, she has grown her skill set exponentially and continues to learn everyday.  More importantly, she helps fill the gaps - ever willing to run an errand as climb a ladder - and always with a smile on her face.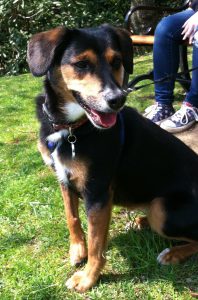 Koda
Shop Dog/Mascot
Koda is a mixed breed rescue from a local rescue organization.  She is professionally trained to lay on the futon and nap endlessly.  She may greet you with some barks but she is really all kisses and wags.  We are so happy to be able to bring our dog with us to work everyday - she certainly brightens our days.